Monday 16 March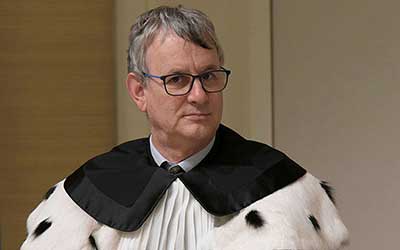 Dear students,
We are going through the fourth week of emergency today. We are in a tunnel, but I encourage you to see the light at the end of it and appreciate the positive aspects of this experience, which is new for you and for us, your professors and instructors.
The teaching has begun for all the lessons planned for this semester and each teacher has done his/her best to use the tools that they considered more appropriate and congenial to their course.
To date, 54 professors have submitted material for a total of 313 hours of teaching.
In general, lectures are recorded using BlackboardCollaborate Ultra (302 hours) and made accessible through the links on Blackboard. For those of you who have not yet done so, I would like to remind you that without enrolling in the specific course on Blackboard, it will be impossible to receive messages and therefore you may miss important information.
In some cases "live" lectures were held (11), some professors have chosen other ways: shared documents, audio comments, Power Point presentations with a running commentary and thus enhanced our level of biodiversity, which as you know is a must-do in our Faculty.
I am also pleased to see that many of you, promptly and proactively, have followed the telematic indications of their professors and instructors, by downloading lectures, studying, carrying out the exercises: your collaboration is now more crucial than ever to ensure the effectiveness of the teaching and to maintain the team spirit that has always distinguished our Faculty.
However, we always miss the direct interaction that you can only have in a classroom, or meeting after the lecture in our Campus. Therefore, I invite you to not forget your professors and instructors: every once in a while you will be contacted by e-mail or you are very welcome to intervene during "live" sessions, I assure you that this will be much appreciated.
Report any problems you may have; if a professor, in the heat of the moment, floods you with video lectures and you feel overwhelmed, tell him or her. If you feel abandoned, live and agree on a more effective way of dialogue.
For their part, professors will still try to make the material available regularly and continuously, but also not to overload you. I have given an indication to respect the timetable of the lessons and not to increase the load during these weeks. We are looking for a solution for the recovery of lab practice and to make up for the impossibility of didactic trips. We'll see what we can do. A solution could be concentrate them all in the final part of the semester.
I recommend you to check frequently the e-mail on your iCatt address because it is the tool we can use to reach you all, both from Blackboard and from the SVE exam system.
Please do not hesitate to ask for information and make suggestions.
Exams and Graduation sessions
I think you have received a document describing the remote process for graduation sessions. I believe that both exams and graduation sessions throughout April will be held this way. For those who are carrying out an experimental project for their final dissertation and will not be able to complete it, we will see whether it is possible to organise a further graduation session, or to ensure that the summer ones are free of charge, for those who are graduating in April.
Best Wishes
The Dean Marco Trevisan and the Faculty
Friday 6th March
Dear Students,
A further update in view of the decisions taken by the Faculty after another week of suspension of teaching activities, and the possibility of yet another extension of this suspension until the end of the month.
Online teaching
From Monday 9 March and for all our courses we are adopting online teaching tools, as indicated by the University, to continue our activities until the resumption of frontal lectures.
Please consider that not all professors are free to come to our campuses to record video sessions, and therefore for some courses there could be more difficulties as the material will not be available immediately. I hope that you will understand the critical situation in which we are currently operating, which is two-fold. On the one hand there are health issues, on the other hand, there is the difficulty in using a new teaching resource.
The transition to online teaching, even with the doubts about an impersonal way of teaching, seems essential considering also the uncertainty about future trends and the requests received by many of you.
The system adopted is Blackboard Collaborate Ultra, according to the modalities that each professor and lecturer will communicate to you for the specific teaching. I remind you to register for the course on our Blackboard platform.
We can have streaming courses, recorded video courses or courses with slides accompanied by audio descriptions. For Cremona campus, I do exclude the possibility of streaming tuition.
The lectures will be available according to the calendar that has been made available to you, so you only have the lectures scheduled for that date for each day. These lectures will remain available on the Blackboard page until the end of the course.
Recovery of lectures already suspended
From 9 March you will start with the programme from the point where lessons were suspended. We will use the two weeks from the 6 to the 17 April to upload some of the lost lectures, in order to start again with our frontal tuition with a smaller number of lectures to make up. For the recovery in the classroom of the remaining suspended lessons, you will receive a calendar that will be prepared by the offices when this emergency is over. As communicated in my previous message, the recoveries will be in June, in the two weeks already scheduled for recoveries.
Recoveries of educational trips and labs
These activities cannot be rescheduled until we return from quarantine, so I will reserve the right to inform you later on how we are going to manage the situation.
Exams, graduation sessions and student reception
As far as exams, graduation sessions and student reception are concerned, the instructions given in my previous communication remain unchanged. At the moment there are no postponements of any kind.
I wish to emphasise that you do not have to worry since we will ensure that all examination and graduation opportunities are maintained as planned.
Best Regards,
Marco Trevisan
Wednesday 4th March
Dear Student,
As a consequence of the health emergency connected to the cases of infection by Coronavirus COVID-19, as announced on the Università Cattolica website, and of the resulting suspension of all teaching activities scheduled for the week 24-28 February 2020, the Dean has ruled that from Tuesday 3 March 2020 until courses return to normal, all classes of the undergraduate degree programme in Food Production Management / Sustainable Agriculture for Food Policy will be available online on the Blackboard platform.
To access the lessons recorded by the professors/instructors, you must be enrolled (or complete enrolment) on the particular course on Blackboard.
You are therefore advised to enrol on all second semester courses for your programme year.
You must be enrolled on the related Blackboard courses in order to access the material uploaded by the course professors/instructors.
Recordings of classes will be available for a limited time only, although no less than 24 hours after publication.
Practical sessions will be suspended unless your professor/instructor informs you otherwise.
Off-campus academic activities are suspended.
Assessments for course work are suspended.
When the return to normal classes has been announced, the class recordings will be guaranteed for a further week in order to give students time to get back to the campus.
Sincerely
Marco Trevisan
Preside della Facoltà di Scienze agrarie, alimentari e ambientali