A new "Sensory Lab"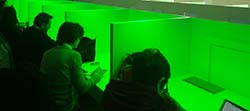 A new "Sensory Lab" opened on 12 April 2019 at the Facoltà of Scienze Agrarie, Alimentari e Ambientali of the Università Cattolica del Sacro Cuore in Piacenza.
This sensory lab was conceived and realized according to most advanced technology in sensorial analysis.
The tasting room can host up to 20 tasters and it is equipped to welcome analyses of quite different food matrices going from wine to coffee, oil to chocolate, beer to grappa not to exclude other typical food from the Po Valley Region.
When it gets into wine tasting, the lab will present ideal conditions in terms of full control of environmental condition such as odors, light sources, noise, temperature and humidity. A "cozy" environment is very much needed when the taster is required to express his/her subjective feeling about a given wine!